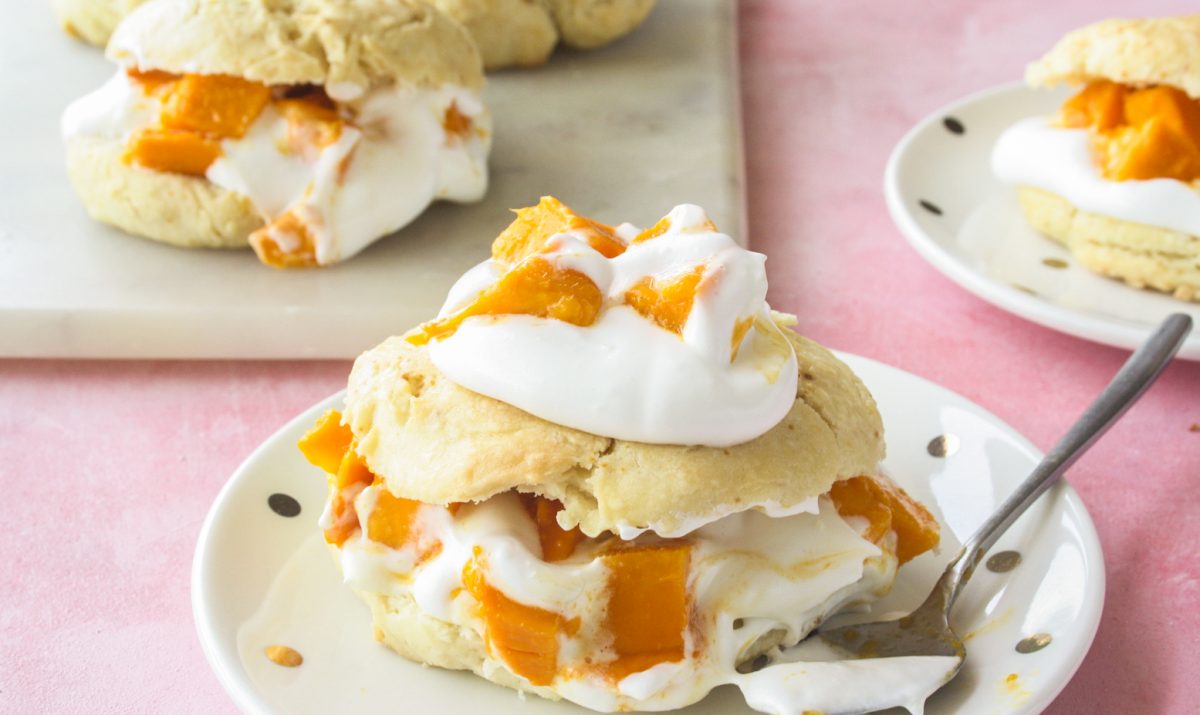 INGREDIENTS
For Buttermilk Biscuit
2 Cups flour

1

T

bsp

 

baking powder

4

T

bsps

 

caster sugar

1/4

T

sp

 

salt

 

if using unsalted butter

1/2

C

up

 

cold Anchor butter

 

cubed 

1/2

C

up

 

cold buttermilk

 

or regular cold milk soured with 1/2 tsp lemon juice

1

 

tbsp

 

cream + 1 tsp water
For the filling
1/3

C

up

 

chilled Anchor whipping cream

1

T

bsp

 

icing sugar

1/4

T

sp

 

vanilla extract

2

R

ipe mangoes

 

peeled and diced
INSTRUCTIONS
To make the biscuits:
Sift the flour and baking powder in a large mixing bowl. Stir in the sugar and salt, if using. Add the cold butter and rub it into the flour with your fingertips until the mixture resembles coarse breadcrumbs with a few bigger bits of butter.

Pour in the cold soured milk and quickly bring the dough together with spatula or your hands. It will be wet but manageable. Sprinkle on an extra tablespoon of flour if it feels too wet.

On a lightly floured silicone baking mat, pat the dough out into a 1 inch thick disc. If it feels warm or too soft, stick it in the fridge for a few minutes.

Use a cookie cutter or small bowl 2 inches in diameter to cut out the biscuits. Bring the scraps together to cut out more circles. Alternately you could just pat the dough into a rectangle and cut out it into equal pieces.

Mix the cream and water in a small bowl. Brush on top of each biscuit. Slide the baking mat with the prepared biscuits onto a baking tray, then transfer to the fridge for 10 minutes. Preheat the oven to 395F.

Bake the biscuits for 20 to 25 minutes until golden brown on top, and risen. Rotate the baking tray as needed to ensure even browning.

Once the biscuits are done, set them on a wire rack to cool while you do the rest.
Make the whipped cream:
Whip the cream, sugar and vanilla until thick and fluffy, with the cream forming stiff peaks when you lift the beaters.
Assemble:
To assemble the shortcakes, slice each biscuit in half and dollop whipped on to the bottom half, about 2 tablespoons. Spoon a few of the mango pieces on top, then place the top half of the biscuit on it. If desired, top the shortcake with more cream and mangoes. Repeat with the rest. Eat immediately! Best made and finished on the same day. Assembled shortcakes will keep in the fridge for 2 days in an airtight tin.
Recipe by The Desserted Girl