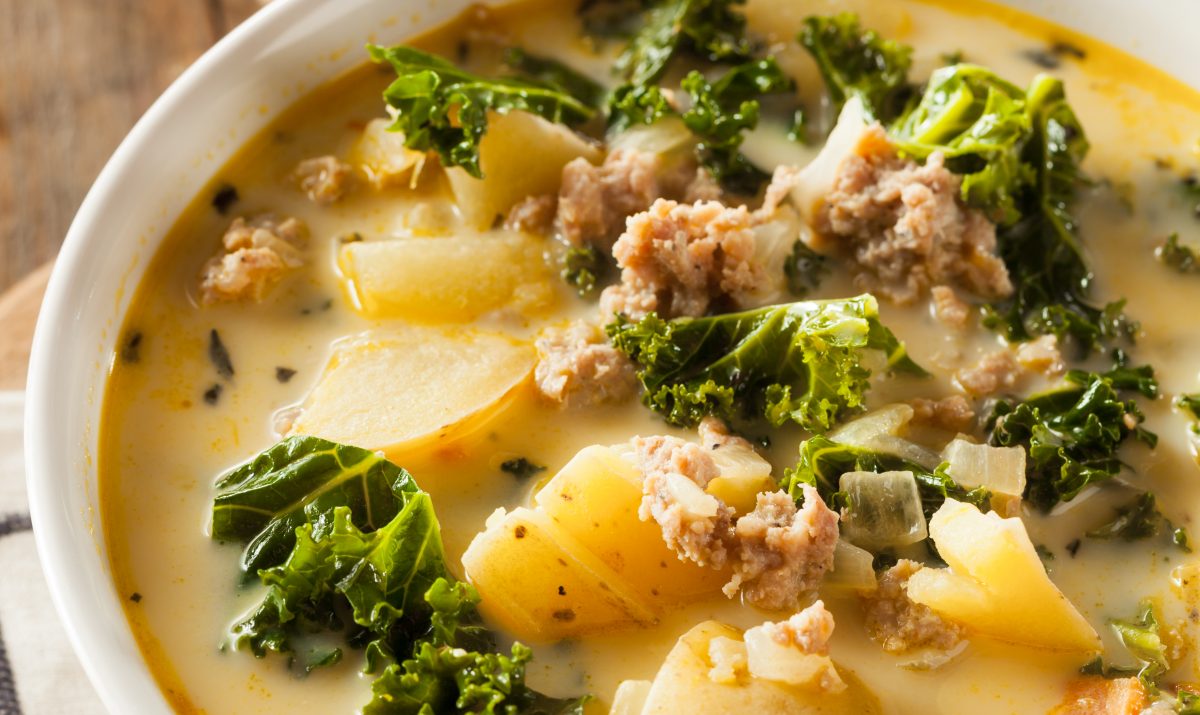 Ingredients
1

P

ound

 

ground Hot Italian sausage

1

S

mall onion

, 

diced

2

L

arge cloves garlic

, 

minced

4 Cups chicken broth

2

P

otatoes

, 

scrubbed clean

1/2

B

unch kale

, 

de-stemmed and roughly chopped

1

C

up

 

Anchor cooking cream

2

 

Tablespoons

 

flour

1

 

Pinch

 

of red pepper flakes

, 

optional

Salt and pepper

, 

to taste
Instructions
Brown the sausage in a large pot over medium heat. Grain any excess grease. (Failure to do this will result in red broth from the sausage grease.)
Add the onions and cook for about 5 minutes, until softened. Add the garlic and cook for an additional minute.
Add the chicken broth and cover the pot. Reduce heat to medium-low and let it simmer for about an 30 minutes.
Slice the potatoes very thinly, about 1/8 inch thick. Bring to a gentle boil for about 15 minutes, until the potatoes are cooked through. (Fork tender but not overcooked.) Reduce heat to low.
Pour the cooking cream into a container with a lid. Add the flour. Cover and shake until well-combined.
Add it to the soup, increase heat to medium-high and let it thicken for 10 minutes.
Reduce heat to low and add the kale. Add a pinch of red pepper flakes. Simmer for 5 minutes and serve!