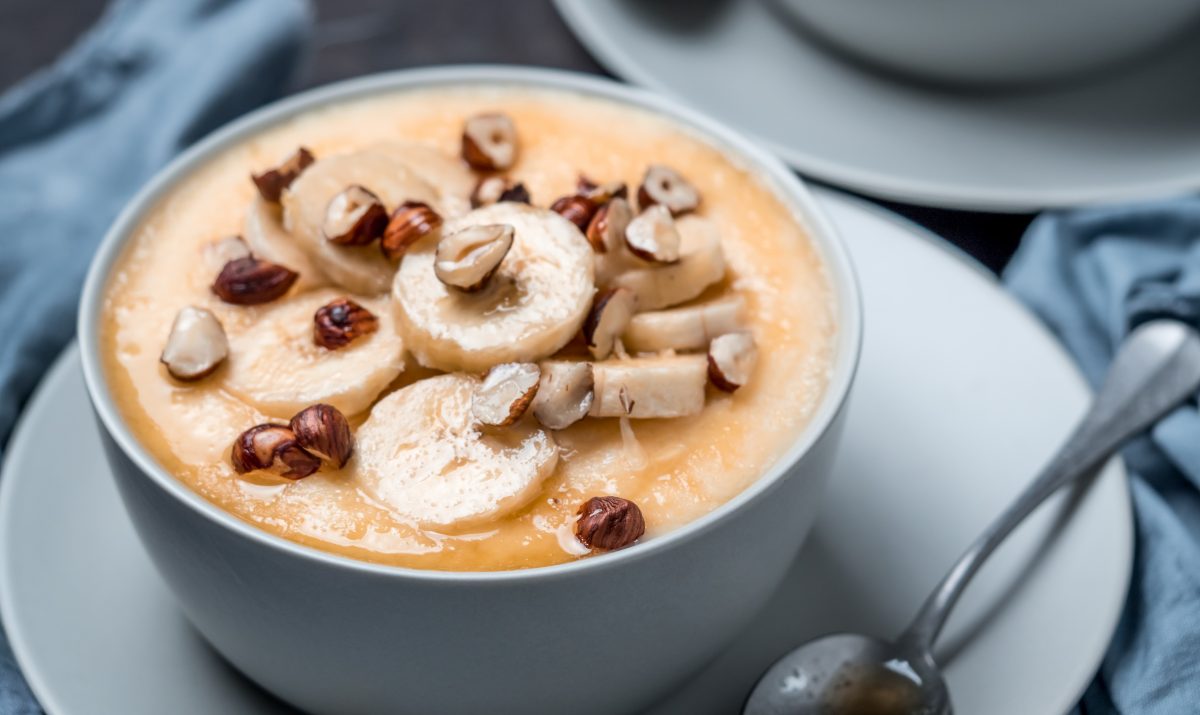 Ingredients
For Cornmeal Porridge
4 Cup water for mixing the cornmeal
2 Cups yellow cornmeal
3 Cups water for boiling
1 3/4 Cup milk
1/2 Teaspoon nutmeg
1 1/2 Teaspoon salt
1/2 Teaspoon ground cinnamon
2 Teaspoon vanilla extract
1 Can sweetened condensed milk
For the Burnt Honey Butter
5 Tbsp clear honey
1 Cup Anchor butter (at room temperature)
Other
1 Banana
1/2 Cup hazelnuts
Instructions
For Cornmeal Porridge
In a small bowl, add the yellow cornmeal and water and mix together with a whisk. Set aside.
Pour the 3 cups of water and milk into a medium pot with the salt and allow to boil up.
Slowly pour the yellow cornmeal mixture to the boiling liquid and continue to stir vigorously with a whisk on medium low heat, to prevent lumps. Cover and allow to cook for the next 30 minutes on low heat. Be sure to stir every 5 to 7 minutes.
Add the ground cinnamon, nutmeg and vanilla extract and stir.
Open the can of sweetened condensed milk and sweeten the porridge to your taste. Make sure to check the consistency. If it is too thick, you can add about 1/2 cup of water or milk to the porridge.
For the Burnt Honey Butter
Heat the honey in a small pan over a medium-high heat. Let it bubble until it turns to a deep gold, then remove and cool slightly.
Using electric beaters, beat the butter in a large bowl until fluffy and pale.
Add a large pinch of sea salt, then fold in the warm honey.
Scrape into a serving bowl and chill. Can be made a day ahead.
Assemble
Pour porridge while still warm to cup or bowl
Top with sliced banana and hazelnut
Drizzle on burnt honey butter
Enjoy!
Instructions for Cornmeal Porridge by A YouNique Journey
Recipe for Burnt Honey Butter from Good Food magazine