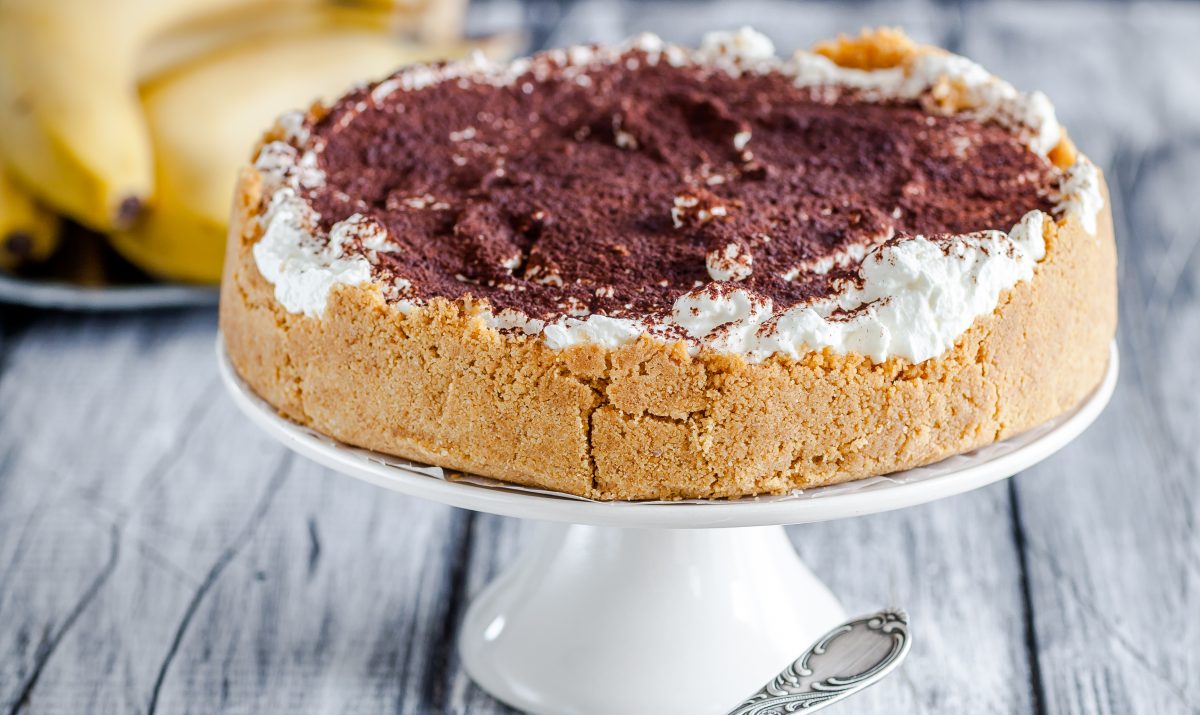 Ingredients
Dulce de Leche Filling
1 1/2 cans Sweetened Condensed Milk
Crust
2 Cups

Digestive Biscuits crushed into crumbs

2 Tablespoons

Granulated Sugar

6 Tablespoons

Anchor Butter, melted
Filling
2

 Large Bananas

2 Cups

Anchor Whipping Cream

3 Tablespoons

Icing Sugar

1 Teaspoon

Vanilla Extract

2

–

4

oz Chocolate for Garnish
Directions
Dulce de Leche Filling
Preheat oven to 350F. Pour sweetened condensed milk into an ovenproof dish, so that the milk is shallow. Cover lightly with foil. Place that dish in a large roasting pan and place in the oven, fill the roasting pan with water so it goes halfway up the sides of the dish. (The water bath helps create a more even cooking environment for the dulce de leche.)
Bake for two hours or until you have reached the beautiful caramel color. Let cool completely. (Transfer to an airtight container and store in the fridge if preparing ahead of time.) 
Crust
Turn oven on to 350F. In a small bowl mix together the graham cracker crumbs, sugar, and butter, until well combined. Press into a 9-inch pie dish.
Bake in the oven for 12-15 minutes, until the edges have started to slightly brown. Let cool for at least 30 minutes.
Banoffee Pie
In the bowl of an electric mixer combine heavy whipping cream, powdered sugar, and vanilla. Whip on medium-high until medium peaks form. Store in the fridge until ready to use.
Once crust and dulce de leche have cooled pour dulce de leche on top of the crust and place sliced banana slices over the dulce de leche then top with the whipped cream.
Chill in the fridge for at least 3 hours. Use a vegetable peeler across the sides of a chocolate bar to create chocolate curls and top pie. Store in the fridge for up to 3 days.
Recipe by Elizabeth Waterson of Confessions of a Baking Queen