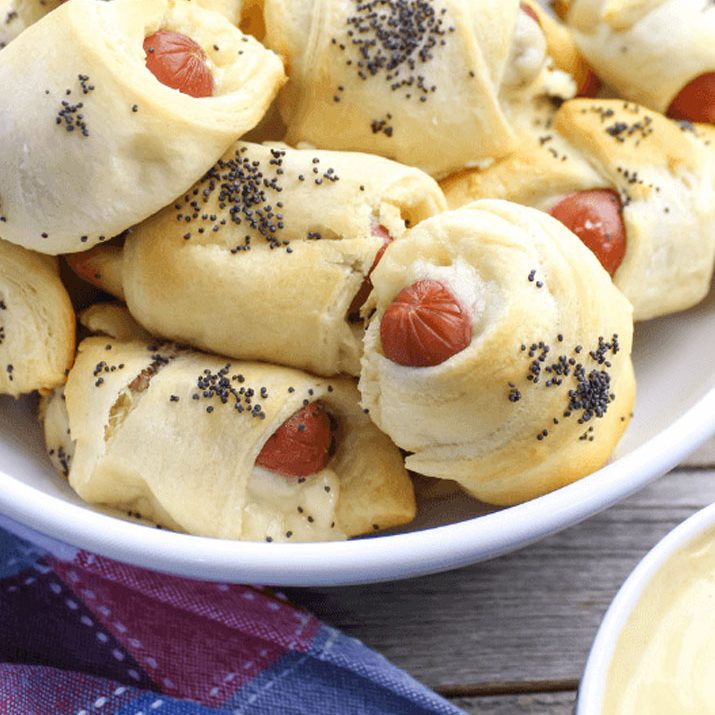 INGREDIENTS
2 crescent rolls containers
12 once package mini sausages (cocktail wieners)
8 ounce block Anchor Gouda cheese (you only need about half the block)
poppy seeds
1/4 cup Anchor butter, melted
HONEY MUSTARD DIPPING SAUCE
1/4 cup mayonnaise
1/4 cup whole-grain Dijon mustard
3 tablespoons honey
DIRECTIONS
Preheat oven to 375 degrees.
Unroll the the sheets of crescent and cut along the perforated edges. Cut each of those in half to make 32 triangles among the 2 containers.
Roll a mini sausage and a small slice of Anchor Gouda in each of those triangles and place onto a baking sheet.
Melt the butter and brush onto each roll.
Sprinkle with poppy seeds.
Bake for 12-15 minutes of until golden brown.
As the Pigs in a Blanket bake, make the dipping sauce using 1/4 cup of both Dijon and mayonnaise, plus 3 tablespoons honey. Mix well.
Serve as an appetiser warm out of the oven with honey mustard sauce on the side.