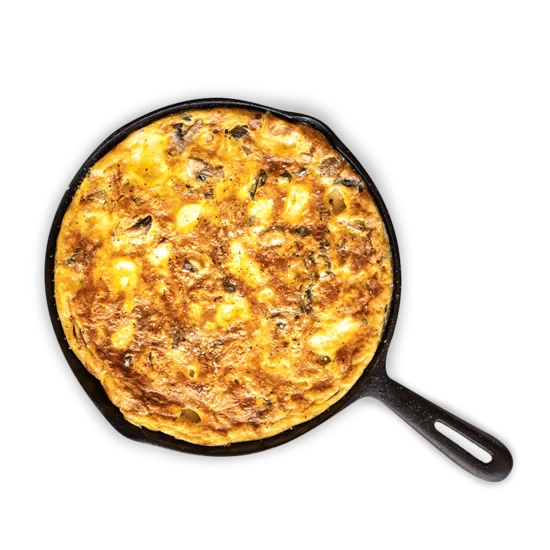 Ingredients
olive oil
250g button mushrooms, quartered
1 brown onion, thinly sliced
8 free-range eggs
½ cup Fresh Cream
125g Anchor Cheddar Cheese, grated
1 cup finely chopped herbs (parsley, mint, basil)
75g Anchor Edam Cheese, cut from a block
salt and pepper
Note: Using a 24cm non-stick ovenproof frying pan will work best
Directions
Preheat your oven grill to high.
Heat 1 tablespoon of olive oil in the frying pan on a medium heat. Add the mushrooms and onion and sauté for 6-8 minutes until softened.
In a bowl, whisk together the eggs and cream. Add a pinch each of salt and pepper then mix in the grated Anchor Tasty and the chopped herbs.
Pour the egg mixture into the pan, making sure it fills it right the way around, then crumble up the Anchor Edam cheese and dot it all over the top of the frittata.
Cook in the pan on a medium heat for 5 minutes, then place under the grill for a further 4-5 minutes or until the frittata is golden brown and the egg is cooked.
Slide the frittata out of the pan onto a board or platter and serve warm.
If you're taking it on a picnic, allow it to cool completely before slicing and storing in an airtight container.